Department of Communication Science Program has two concentration. There are Marketing Communication and Broadcasting. The learning systems are completed with good learning facilities and ICT-based. This can be seen from all ICT-based learning facilities where all classes are equipped with the projector, wi-fi networks that strongly support the information searching process, lecture attendance system, lecture grades, trusteeship system, and proposal/thesis seminar registration. Those facilities are based on information systems network called I-Gracias.
The complete support student's facilities are also completed with radio, television, photography and multimedia laboratories. Learning facilities are not only obtained in the classroom and in the laboratory but also facilitated in discussion room's hall and soft skills development through the student clubs, such as Ready Radio club, Kofi Photography club, Ikom Channel club and ICT club.
The Learning Curriculum Design of Communication Science Program is designed by involving practitioners and academics through Focus Group Discussion (FGD) so that the curriculum is run in accordance with the demands and needs of the industry. They have been provided with the knowledge and expertise acquired in entrepreneurial learning activities, in addition, to have the Ready-to-Use of Communication Science graduation and needed by all communication industries, have an entrepreneurial spirit in the field of communication.
Curriculum Organogram of Broadcasting Concentration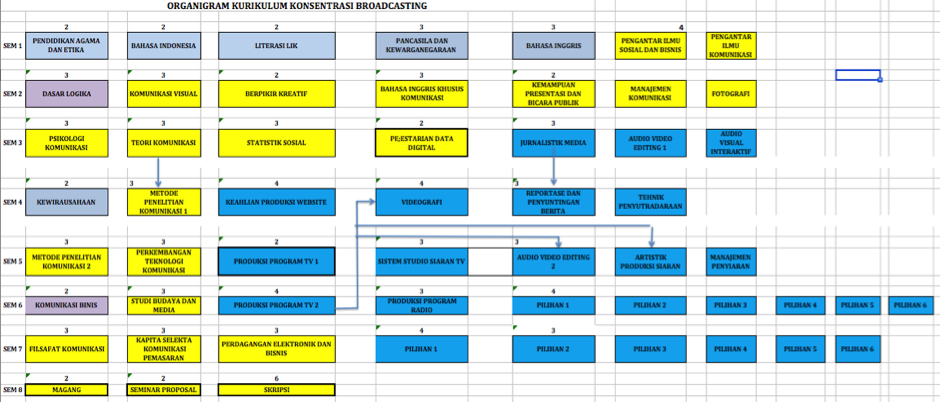 Curriculum Organogram of Marketing Communication